Digital health assessment
Let's explore how environment shapes our mind

Overview
Nowadays, more than 10% of our population is in a bad state of mental health and well-being or even suffering from mental illnesses. Hereby the environment around us can have a significant impact. While environmental factors like experiencing nature can have positive effects, conditions like urbanization may led to increased mental health impairment. This closely interacts with social factors like being with friends and the community, which might sometimes make a negative place even better, and with individual internal and external resources to go through situations or handle challenges.
In the environMENTAL project, our aim is to identify interactions between the individual and its environment and based on this develop strategies and tools to better manage mental health and well-being and thus significantly improve environmental-related illnesses. We will investigate how some of the greatest global environmental challenges like climate change, pollution, noise emission and the COVID-19 pandemic affect mental health over lifespan and provide European citizens with prevention and intervention strategies to better manage their mental health and well-being.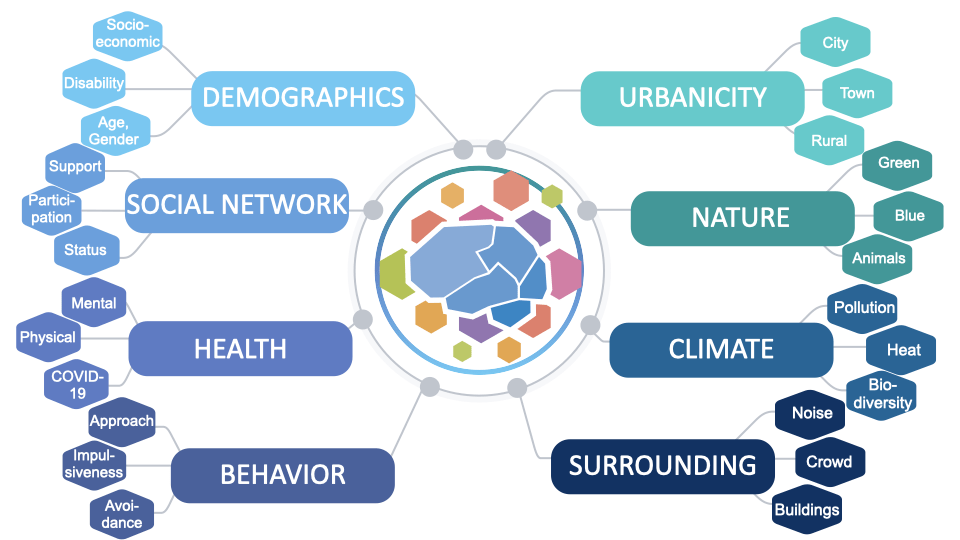 StreetMind – Digital health assessment
With StreetMind, it is you who can contribute to a better understanding of how environmental factors like urbanicity or climate change influence how individuals across Europe and the world feel, act and behave. Make up your mind together with fellow citizens and scientists, and share your daily experiences of your surroundings and the environment you live, work, and interact in. How do you feel in certain places? Is it safe? Is it crowded? Do you feel particularly happy or stressed in a particular area? Interact with other people, feel empowered and inspired by a community of fellow citizens and help to make people aware of and identify things that can reduce the impact of significant environmental challenges. Each experience becomes part of a more extensive experience network across the globe.
Together with you, we will address the question:
How can we reduce the negative impact of environmental challenges on our well-being?
We want you to share your experiences in daily life with us and the community to find out more about places and areas in Europe and abroad. Where do people spend most of the times of their days and  how they like it there? For this, we developed the App "StreetMind", based on citizen science principles (research for the people, with the people, or by the people).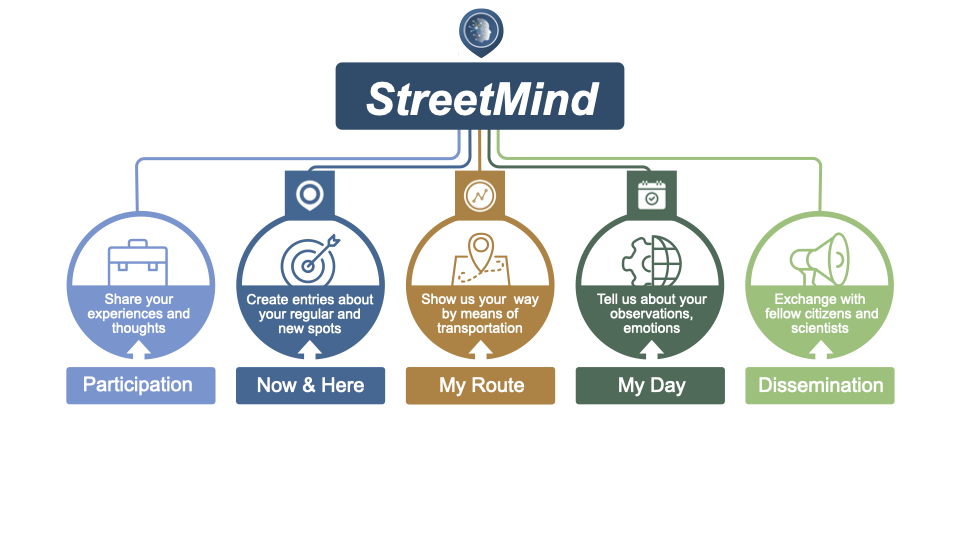 What moves you?
Spend less than 5 minutes a day and become part of a community defining personal spots of well-being. With StreetMind you can record what you encounter and provide location-based feedback on various topics like your health, your nutrition, your social surrounding or even map your daily paths.
How to get involved
Before you install StreetMind from your app store, please visit the StreetMind website and read the consent form carefully. If you have any questions, please contact us via the contact form below or via email.
Digital intervention - Virtual Reality approach